* School Field Trips *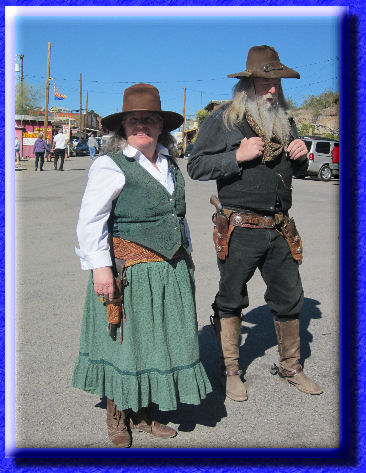 The Oatman Ghost Rider Gunfighters along with Prospector Bob, Jackie, Mike is part of all the fun for the school children on their school field trip. An experience they should remember for a long time to come.

They will hear information about the town of Oatman, Arizona, gold mining, rocks of the area and of course all about our wild burros that roam the streets.

They will hear speakers like Jackie Rowland of Fast Fanny's on how Oatman was named. About Olive Oatman, who the town is named after, and her family and information about the area and the Mohave Indian Tribe.

Upon arrival of the school field trip the Oatman Ghost Rider Gunfighters will start out with a lot of wild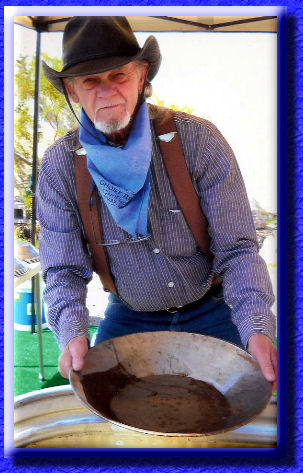 west comedy then get a little more serious with a talk about gun safety and interacting with the children. And then ending with a good ol Wild West Shoot out and again is full of comedy!

Then we usually break the group into smaller groups and Mike, aka Fox, will take each group and show points of interest around Oatman and give a lot of history about Oatman, Arizona.

Another group is taken by Prospector Bob and Jackie and there they will tell all about panning for gold and letting them pan for gold as well. Lots of fun and laughs, Prospector Bob can be very entertaining, and very informative and educational for children to learn about the old mining days.

Then the other group is taken by Sheriff Lit'l Bit (Linda) and Stinkweed (Tom) to the Making Memories Old Time Photo Shop to dress up their group and teachers for a wild west photo. Each child will receive a copy of the photo and one for the whole class to have. Then each group will trade places so all will experience the whole thing.

If needed we can supply some tables, chairs and an area for a picnic in a nice shady spot to enjoy a snack or lunch for everybody. It is a great time for the school kids for a field trip and it is definitely a great time for us!
Contact Linda at 928-234-0344 ~ 928-768-8063 ~ 928-768-6222
To set up your School Field Trip!